MuseArts has helped hundreds of people, both in Vermont and around the country, establish their online presence with new web sites. We can help you, too.
If you are thinking about getting a website for the first time, there are some basic questions you'll want to consider.
Designing Your New Web Site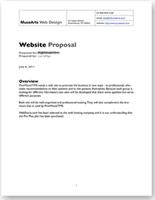 There are all sorts of web sites, and we can build almost anything you've seen. What type of site is right for you?
A web site can act as a simple online business card or brochure, function as a store and help sell products or services, or facilitate communication, community, and discussion. MuseArts can help you narrow down your options.
Our first goal is to understand your business so we can develop the best presentation of what you have to offer.
The Process
MuseArts works with you to create a site outline that lists all of the major sections of your new web site as well as the web pages that will be found in each section.
Our next step is to design sample home pages and work with you to find the best possible design for your new site. We then install and configure your content management system and build your site theme to match the approved designs.
We'll work with you to create and refine all of the sub-pages listed in the site outline, adding text, images and other features. Your new site will be tested on all major browsers and multiple operating systems so that potential errors can be corrected before the site goes live.
Once the new website is up and running, we can help you find ways to promote it, optimize the site for search engines, and add new features. If you need a logo or business card designed, we can do that, too.
When we finish,  you'll get a user's guide to your new site, including full instructions for editing, adding, or deleting text and images from your site, as well as details about your server and hosting. We want you to have full control over your site.
Take a look at our Portfolio to see samples of recent sites we've built.