If your site is up and running, it may be time to consider adding new, useful features to your web site in the form of an add-on, plugin, widget, or other special feature.
Web Site Features
Mobile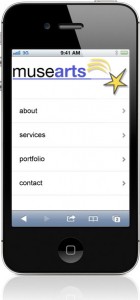 Cell phones, smart phones, and mobile devices are ubiquitous today — everywhere, you'll see people using their phones for maps, directions, and information. We can help you create a version of your site for those preferring to find you by iPad or mobile phone, so you'll be ready when they come looking for you.
Your mobile version is designed to provide a simple yet complete experience for users accessing your site by mobile device. It's customized with your logo and matching graphics.
Digital Newsletters
A great way to lure traffic back to your web site on a regular basis is to send out an online newsletter. Collect subscriptions through your web site and/or place of business, then send out a monthly or quarterly newsletter to customers updating them on the latest news, sales, and other customer perks. They'll thank you for keeping them updated and you'll benefit from the extra traffic to your web site and business locations.
Online Calendars & Events
If your business or organization puts on frequent public events, you may want to consider installing an event calendar on your web site. It's a great way to keep the public up to date on upcoming functions and events, and if you want, we can even set it up so you can update it yourself.
Image Galleries
The web is a great way to share images, as if we needed to point that out. You can have one or more image galleries on your site to share photos of events and activities or to showcase images about a particular topic. Whether you're an artist or photographer or just have a lot of pictures to display, we can help you make them accessible on your site.
Product Catalogs
Unless you only have a handful of products, you're going to need a product catalog to properly display and showcase your online inventory. Whether you want to sell them online or off, you can easily maintain a product inventory on your web site, using custom or off-the-shelf software.
Emailers and Forms
Sometimes you want to ask site visitors for particular information or perhaps you don't want them to see your email address. Whatever the reason, forms and emailers can come in handy, and we can build them for you.
Audio & Podcasts
Often people want to post audio on the web but it seems daunting in its complexity. In fact, it's almost as easy as recording an mp3 file and posting it to your web site. We can show you how.
Online Video
Online video is a bit more complicated than audio — do you want to link to your video or embed it in the page? How large will your video display box be? Let us help you answer those questions and optimize your video for display.